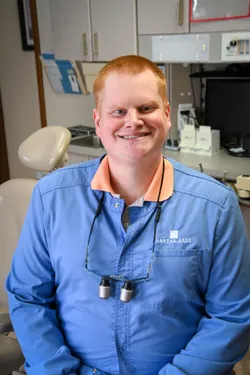 WELCOME, DR. ALEX!
Dr. Alex Metzler joined Dental Arts in December of 2022. After receiving a Bachelor of Science degree from Viterbo University, Dr. Metzler earned his Doctor of Dental Surgery degree from Marquette University in Milwaukee, Wisconsin, in 2015. He has been serving the population of the greater Green Bay area ever since.
Dr. Metzler has committed many hours to stay educated on the latest advancements in general dentistry, including advanced general dentistry services, implant placement, and a rotation in pediatric care. He is a member of:
We are excited to have Dr. Metzler bring his wealth of knowledge to our clinic. His sense of humor is contagious and we can see why his patients love him. In his spare time, you can find him with his family, volunteering at community events, and playing guitar and bass. We are so lucky to have him join our team!
Please click the picture to view in full resolution!